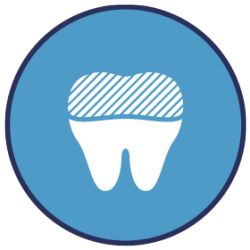 ← Back to Services
Dental crowns may be the key to protecting your weak or damaged teeth. Crowns are essentially "caps" placed over teeth to restore their size, shape and strength. Neighborhood Family Dentistry provides zirconia crowns, porcelain/lithium disilicate crowns, porcelain crowns fused to metal and full-cast gold crowns. We often place crowns following root canals in order to complete a patient's treatment.
Benefits of Dental Crowns
Weak or damaged teeth are not only often unsightly: they can be hazardous to your dental health as well.
Dental crowns help by protecting and maintaining the structure of the tooth. In the case of a tooth that has been damaged in some way, crowns can also improve the look, form and function of your tooth, restoring your smile while contributing to your overall oral health.
Getting a Dental Crown
Our dental crown process usually entails two phases which are spread out during the course of two visits.
First, the area where the crown will be put in will be anesthetized;
Then, the tooth where the crown will be placed will be shaved down in order to make room for the new crown;
Impressions of your tooth will be made and sent to a dental laboratory so that the crown can be fabricated;
In the meantime, you'll go home with a temporary crown in place;
Once the crown is fabricated, you'll return so that Dr. Brown can put it into place.
Crowns are often covered partially by insurance, and we're happy to guide you through the insurance process. For more information on our insurance policies, click over to our payment options page.
How long do crowns last?
If you take care of your crown correctly, it should last a lifetime. If a crown comes off, that's usually the sign of an underlying problem and you should call your dentist immediately.
Caring for your dental crown is simple: maintain good oral hygiene and keep up with routine visits to your dentist.
The Difference Between Crowns and Bridges
Crowns are meant to restore a single tooth. Bridges are made up of crowns on two teeth (abutments), which are connected by an artificial tooth (pontic). In other words, crowns are used to restore weak or damaged teeth while bridges are used to replace missing teeth.